MARCH NEWSLETTER #5
And a fine March it is!  The weather today is marvelous and the smells of Spring dominate the air, along with old wood, Briwax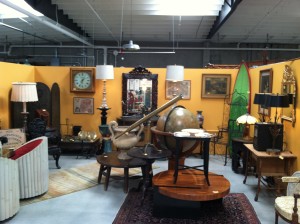 and silver polish.  We have our ANNUAL BLOWOUT YARD SALE coming up this month, URBAN AMERICANA is up and running, the store has been freshly re-arranged and our NEW MERCHANDISE is out on the floor.  We had a great FIRST FRIDAYS last week and we will be at the LONG BEACH VETERANS STADIUM FLEA MARKET this coming Sunday.  We have also opened up an eBay store so watch for those items too.  Geared up with places to go.  Happy MARCH!
ITEM OF THE MONTH–ATTU BASKET
Sometimes you just LOVE an object, even though it has issues.  That special T-shirt, favorite partially-working pen, stained ball cap or scratched sunglasses.  Well, we antiques dealers have stuff like that too.  Attu baskets are known and valued for their ultra-fine weaving and the use of Russian silk thread to highlight the decorations. They are some of the most desirable of all Native American woven baskets.
This little Attu (Aleutian Islands) woven basket has seen better days.  The gentleman who sold it to me says it got mashed in a move and now has splits and separations throughout.  Restorations can be very expensive, the estimate for this one is in the $650-$850 range to repair it.  Attu baskets are rare and desirable, and this basket in good condition could fetch as much as $4000.  So, to repair or not to repair?
Read the rest of the Newsletter HERE!
Subscribe to our email list