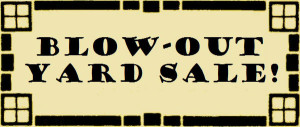 ONE DAY ONLY
SATURDAY, MAY 9TH
8AM to 3PM
---
A Message from the Owners
Yes, it's time again for our annual yard sale.  The garage has become a storage unit and we're cleaning out our clutter.  Projects, leftovers, upgrades, and just the stuff that accumulates for us all.  This is going to be one day only, Saturday May 9th, from 8am until 3pm.  All are invited.  There's furniture, lamps and lighting, décor items and small objects of virtue, an unused Advantium oven from the GE Monogram series, art work, and odds and ends.  Not much junk though.  Please stop by and all are invited.
Thanks,
Brent and Patti, Owners
---
Located at 4030 N Virginia Rd in Bixby Knolls
Click Below for a Link to the Map
https://www.google.com/maps/place/4030+N+Virginia+Rd,+Long+Beach,+CA+90807/@33.831874,-118.19066,17z/data=!3m1!4b1!4m2!3m1!1s0x80dd339c51adf7f5:0x1395b696e55f8918
---
Click Below to View this Message in a Separate Page
http://us2.campaign-archive1.com/?u=bb7b90ce866eef5e851fe2bbb&id=10852c65c1&e=[UNIQID]
---
See You There!
Subscribe to our email list